Contents
Karin Huber
Immobilien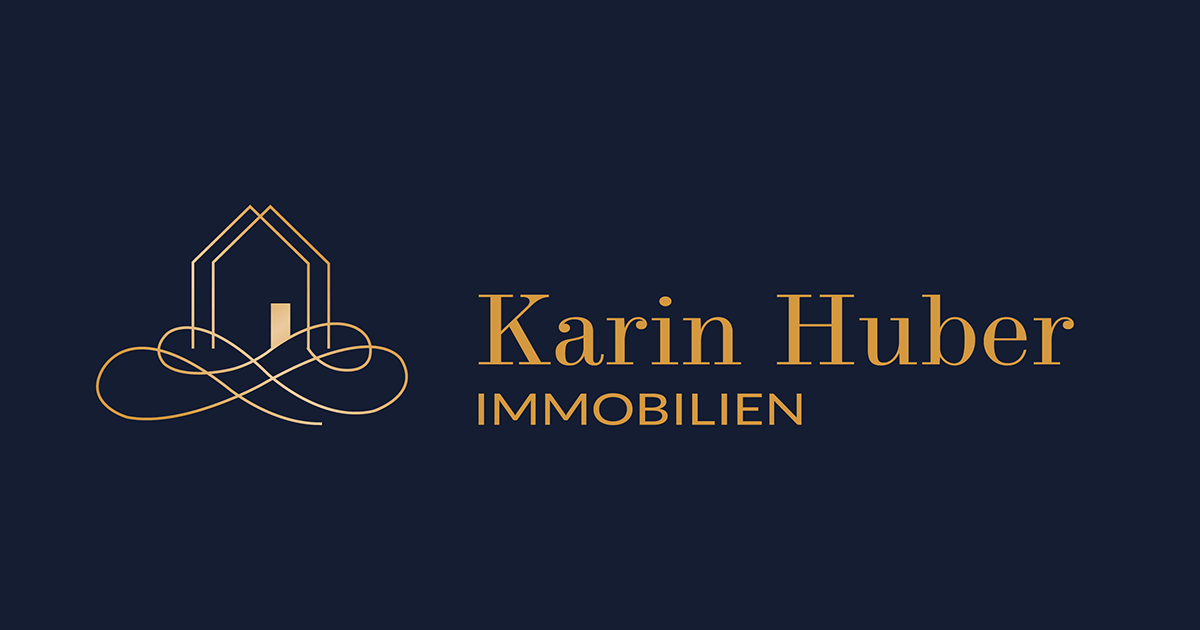 Geschäftsführer

Karin Huber

Firmenbuch-Nummer

FN 443644v

Umsatzsteuer-Identifikationsnummer

ATU70043534
Image Credits
Blick durch die Weingärten auf das Stift Klosterneuburg, rorue, Adobe Stock
Panoramablick über Wien mit Blick auf die Weinberge – Stockfoto, Markus Novak, iStock
Kitzbühel hut – Stockfoto, Edwardward, iStock
Fonts Credits
Playfair Display

Copyright 2017 The Playfair Display Project Authors (https://github.com/clauseggers/Playfair-Display), with Reserved Font Name "Playfair Display".

SIL Open Font License Version 1.1
Design and implementation of the website
Atikon EDV & Marketing GmbH
Kornstraße 15 4060 Leonding Austria
+43 732/611266-0
Fax +43 732/611266-20 E-mail info@atikon.com Website www.atikon.com
einfach.anders marketing- & vertriebscoaching
Fallbichlweg 3 6370 Reith bei Kitzbühel Austria
+43 664 16 50 420
E-mail markus@einfach-anders.at Website www.einfach-anders.at
Disclaimer / sec. 5 E-Commerce Act (ECG)
The intention of the author of this website author is to provide information completely and correctly to the best of the author's knowledge and belief, and to keep this information updated. Nevertheless, the author accepts no liability whatsoever for any damage that may result from the use of the information provided – even if the damage results from the use of possibly incomplete or erroneous information.
Any links to third-party websites are outside the scope of the author's responsibility. Liability for the content of the linked-up pages is hereby excluded, as the author has no influence over the content and design of the linked websites. Therefore, liability for the content of the pages to which the pages of this website refer shall lie solely with the provider of the other website – in no event shall it lie with the party referring with a link to external publications and content. If linked pages (particularly owing to a change to the content after the link has been established) contain illegal, erroneous, incomplete, offensive or immoral information and in the event that the author of this page becomes (is made) aware of such contents on the linked pages, then the author shall cut off the link to such pages immediately.
Copyright
The content (text and images) of this website created directly by the author is copyrighted. The information provided is intended for personal use only. Any use of any of this website's content in violation of the provisions of the Copyright Act – in particular further use as in publications, copies as well as any form of commercial use and transmission to third parties – also in part or in processed form – without the author's explicit approval is prohibited.
Information content
The information on this website is subject to change, removal or amendment without prior notice. The author can therefore not guarantee the accuracy, completeness, quality or up-to-dateness of the information provided.
Legal validity
By using this website, the user is subject to the Terms and Conditions of Use set forth hereunder. These terms and conditions are part of the online presentation. If parts or individual formulations of the Terms and Conditions of Use do not comply, no longer comply or do not completely comply with current law, the content and validity of the remaining parts of the Terms and Conditions of Use shall remain unaffected.
Privacy Statement
We are committed to protecting the privacy of your personal data. For that reason, we process your data exclusively in accordance with the legal requirements (GDPR, Telecommunications Act of 2003 [TKG 2003]). The purpose of this privacy information is to acquaint you with the most important aspects of data processing that come to bear when you visit our website.
General data collection activities during website visits
Every time a data subject or an automated system accesses the website, we collect a range of general data and information. This general data and information is stored in the server's log files. The data and information we collect are:
an internet protocol address (IP address),
the data and time of accessing the website,
the exact page accessed on our website,
the website from which you accessed our website (known as the referer),
the browser used and the version of this browser,
and the operating system used to access our website.
We process this data for the following purposes:
to warrant a smooth connection with the website,
to optimise content for you on our website,
and to warrant system security and stability.
These points are both in your and our legitimate interest. Where necessary, we also use this data to meet our legal obligations in dealings with law enforcement agencies. We will never use the data collected to identify you as a person. The legal basis for this processing is article 6 (1) (f) GDPR. We store these log files for a period of 2 months.
Google Maps
This site uses the Google Maps map service via an API. It is operated by Google Ireland Limited, Gordon House, Barrow Street, Dublin 4, Ireland. To use Google Maps, it is necessary to save your IP address. This information is generally transmitted to a Google server in the USA and stored there. The provider of this site has no influence on this data transfer. The use of Google Maps is in the interest of making our website appealing and to facilitate the location of places specified by us on the website. This constitutes a justified interest pursuant to Art. 6 (1) (f) GDPR.
Further information about handling user data, can be found in the data protection declaration of Google at policies.google.com/privacy?hl=en.
Contact form, Information request
If you contact us using the form available on our website or by email, or send us your application, we will process the data you provide as well as the above mentioned general data. By using our form you agree that we may process your data. We will not disclose this data to any third party and will use the data exclusively for processing your request and for answering your enquiry. Your consent according to article 6 (1) (a) GDPR forms the legal basis for processing your data. In case you contact us by email, the basis is article 6 (1) (f) GDPR. The data we collect during this process will be deleted as soon as it is no longer required for the purpose you provided it. This is the case when the respective conversation is finished. This in turn is the case when your enquiry appears to be resolved completely. If you contact us for placing a contract, a further legal basis is article 6 (1) (b) GDPR. In this case we keep your enquiry as a business letter for 7 years.
Your rights
Generally, you enjoy the following rights: the right to access your data, the right to rectification of your data, the right to erasure of your data, the right to restrict processing of your data, the right to data portability and the right to object to the processing of your data. If you believe that the processing of your data is in breach of data protection law, or your rights under data protection law are otherwise infringed, you may file a claim with the supervisory authority. In Austria, this is the Data Protection Authority.
You will find further information on your rights at Website of the Austrian Economic Chambers.
Hinweise zum Markenrecht
Google Play, Google Play-Logo
Google Play and the Google Play logo are trademarks of Google LLC.
Apple, Apple logo, App Store
Apple and the Apple logo are trademarks of Apple Inc., registered in the U.S. and other countries and regions. App Store is a service mark of Apple Inc.
Cookies
Um Ihnen eine bessere Nutzung unserer Website zu ermöglichen, setzen wir die als "Cookies" bekannten kleinen Textdateien ein, um Präferenzen der Nutzer zu verfolgen und unsere Website entsprechend optimal gestalten zu können. Cookies verwenden wir jedoch nicht, um die einzelnen Besuche unserer Website zu verfolgen. Cookies werden heute von den meisten Websites routinemäßig eingesetzt. Sollten Sie in dieser Hinsicht jedoch Bedenken haben, können Sie Ihren Browser auch so einstellen, dass er keine Cookies akzeptiert.
Google Analytics: Datenschutz und Widerspruchsmöglichkeit
Diese Website benutzt Google Analytics, einen Webanalysedienst der Google Ireland Limited ("Google"). Google Analytics verwendet sog. "Cookies", Textdateien, die auf Ihrem Computer gespeichert werden und die eine Analyse der Benutzung der Website durch Sie ermöglichen. Die durch den Cookie erzeugten Informationen über Ihre Benutzung dieser Website werden in der Regel an einen Server von Google in den USA übertragen und dort gespeichert. Im Falle der Aktivierung der IP-Anonymisierung auf dieser Webseite, wird Ihre IP-Adresse von Google jedoch innerhalb von Mitgliedstaaten der Europäischen Union oder in anderen Vertragsstaaten des Abkommens über den Europäischen Wirtschaftsraum zuvor gekürzt. Nur in Ausnahmefällen wird die volle IP-Adresse an einen Server von Google in den USA übertragen und dort gekürzt. Im Auftrag des Betreibers dieser Website wird Google diese Informationen benutzen, um Ihre Nutzung der Website auszuwerten, um Reports über die Websiteaktivitäten zusammenzustellen und um weitere mit der Websitenutzung und der Internetnutzung verbundene Dienstleistungen gegenüber dem Websitebetreiber zu erbringen. Die im Rahmen von Google Analytics von Ihrem Browser übermittelte IP-Adresse wird nicht mit anderen Daten von Google zusammengeführt. Sie können die Speicherung der Cookies durch eine entsprechende Einstellung Ihrer Browser-Software verhindern; wir weisen Sie jedoch darauf hin, dass Sie in diesem Fall gegebenenfalls nicht sämtliche Funktionen dieser Website vollumfänglich werden nutzen können. Sie können darüber hinaus die Erfassung der durch das Cookie erzeugten und auf Ihre Nutzung der Website bezogenen Daten (inkl. Ihrer IP-Adresse) an Google sowie die Verarbeitung dieser Daten durch Google verhindern, indem sie das unter dem folgenden Link verfügbare Browser-Plugin herunterladen und installieren: Browser-Add-on zur Deaktivierung von Google Analytics
Allgemeine Informationen zu Google Analytics und Datenschutz finden Sie im Datenschutz-Center von Google. Diese Website wurde um die Funktion "anonymizeIp" erweitert um eine anonymisierte Erfassung von IP-Adressen (sog. IP-Masking) zu gewährleisten.
Sie können die Erfassung durch Google Analytics verhindern, indem Sie auf folgende Verknüpfung klicken. Es wird ein Opt-Out-Cookie gesetzt, das die zukünftige Erfassung Ihrer Daten beim Besuch dieser Website verhindert, solange das Cookie nicht gelöscht wird: Google Analytics deaktivieren.
Google Analytics-Berichte zu demografischen Merkmalen und Interessen
Diese Website nutzt Google Analytics Berichte zu demografischen Merkmalen, in denen Daten aus interessenbezogener Werbung von Google sowie Besucherdaten von Drittanbietern (zB Interessen, Alter, Geschlecht) verwendet werden. Diese Daten sind anonym und können auf keine bestimmte Person zurückgeführt werden sowie in den Anzeigeneinstellungen deaktiviert werden.
Retargeting/Remarketing
Diese Website verwendet Retargetingdienste folgender Anbieter: Google Adwords Remarketing, einen Retargetingdienst der Google Ireland Limited, Gordon House, Barrow Street, Dublin 4, Irland (Google Adwords Datenschutzbestimmungen). Die Retargeting-Technologie ermöglicht es, Besucher unserer Internetseiten gezielt mit personalisierter, interessenbezogener Werbung anzusprechen, die sich bereits für unsere Produkte interessiert haben. Die Einblendung der Werbemittel erfolgt dabei auf Basis einer Cookie-basierten Analyse des früheren Nutzungsverhaltens, wobei aber keine personenbezogenen Daten gespeichert werden. In den Fällen der Retargeting-Technologie wird ein Cookie auf Ihrem Computer oder mobilen Endgerät gespeichert, um anonymisierte Daten über Ihre Interessen zu erfassen und so die Werbung individuell auf die gespeicherten Informationen anzupassen. Diese Cookies sind kleine Textdateien, die auf Ihrem Computer oder mobilen Endgerät gespeichert werden. Sie bekommen dadurch Werbung angezeigt, die mit hoher Wahrscheinlichkeit Ihren Produkt- und Informationsinteressen entspricht.

Sie können der Setzung von Cookies für Anzeigenvorgaben durch Google dauerhaft hier widersprechen.